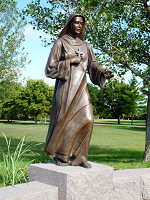 Oblates
of St. Benedict are Christian people who associate themselves with a Benedictine community in order to enrich their Christian way of life. Oblates shape their lives by living the wisdom of Christ as interpreted by St. Benedict.
Oblates seek God by striving to follow His Will in their chosen profession and way of life. By integrating their prayer, ministry, and work of all kinds, they manifest God's presence in society.
Oblates do not live in the monastic house, but are associated with monastic communities in a bond of prayer, love and commitment. They make promises, not vows—to follow the Gospels under the guidance of the Rule of Benedict.
Oblates adopt values that are part of the fabric of Christian spirituality, such as spending time daily, when possible, reflecting on the Sacred Scriptures, a commentary, or the Rule of Benedict. They strive to cultivate an awareness of the presence of God in private and communal prayer (when feasible) and while at work or leisure.
An acquaintance with these and other Christian values presented by St. Benedict in his Rule will enable Oblates to attain that special peace and joy that Christ came to bring and promised to all who follow Him.
For more information contact:
S. Patricia Heirigs, Oblate Director
Sacred Heart Monastery
1005 West 8th Street
Yankton, SD 57078
605-668-6017
Vocations — Join us!
Find out what it takes to be ONE HEART in loving Jesus, your Sisters, and the world.
Learn More