One Heart and One Soul: Stories from our Monastic Home
"And so we are going to establish a school for the service of the Lord...For as we advance in the religious life and in faith, our hearts expand and we run the way of God's commandments with unspeakable sweetness of love." Rule of Benedict, Prologue 45-49
Greetings,
The Rule of Benedict calls the community to service to each other. While a sister's assigned work or ministry might lead to her to teaching, nursing, pastoral care, or other paid ministry, her service to her Benedictine sisters is understood to be a celebration of mutual obedience and good zeal.
"Obedience is a blessing to be shown by all, not only to the abbot but also to one another as brothers, since we know that it is by this way of obedience that we go to God. Therefore, although orders of the abbot or of the priors appointed by him take precedence, and no unofficial order may supersede them, in every other instance younger monks should obey their seniors with all love and concern. Anyone found objecting to this should be reproved" (RB 71: 1-5).

"Just as there is an evil zeal of bitterness which separates from God and leads to hell, so there is a good zeal which separates from vices and leads to God and to life everlasting. This zeal, therefore, the sisters should practice with the most fervent love. Thus they should anticipate one another in honor; most patiently endure one another's infirmities, whether of body or of character; vie in paying obedience one to another. No one following what she considers useful for herself, but rather what benefits another; tender the charity of sisterhood chastely; fear God in love; love their Abbess with a sincere and humble charity; prefer nothing whatever to Christ. And may He bring us all together to life everlasting" (RB 72)!
With these words of Benedict and the needs of our sisters in mind, our intrepid Garden Sisters dressed themselves in boots and bluejeans and headed out to the cornfields. The hard work of walking the field and picking corn paid off when the sisters filled the pickup to the brim with fresh sweet corn. After the last bucketful was balanced on the truck, the sisters returned to the monastery for a break.
"And if the circumstances of the place or their  poverty should require that they themselves do the work of gathering the harvest, let them not be discontented; for then are they truly monastics when they live by the labor of their hands, as did our Fathers and the Apostles. Let all things be done with moderation, however, for the sake of the faint-hearted" (RB 48: 7-9).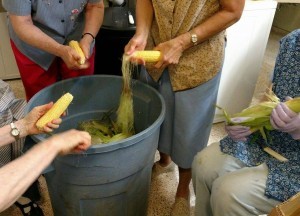 If there is much work to be done, Benedict called for an 'all hands on deck' mentality.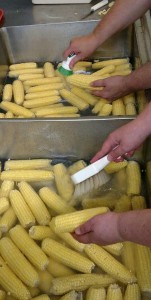 However, each sister is to carefully consider what she can do in moderation. Our sisters brought their willing hands and hearts to husking the bounty of sweet corn. They weren't alone!
As soon as the husking note was posted, sisters donned their aprons and gathered in the hallway filled with heaps of corn ready to be husked. The sound of husks ripping became a background to the sharing of stories and memories.
This is only part of the preparation of the sister's work in preparing the sweet corn for freezing. Other sisters gently brushed the corn, washing the remaining silks from the ear and trimmed any damaged areas from the ears. Then the kitchen Sisters and staff steam the ears before the corn cutting 'party' in the evening.
The evening corn party finds sisters in every corner of the kitchen and serving hall! As the cutters trim the kernels away from the ear, other sisters carried away buckets of now empty cobs or began weighing the kernels into five pound tin pans and prepared them for the deep freeze. All sisters assisted in whatever way possible; from prioress to novice, helpful hands made quick work of the hundreds of ears. The work was accented with laughter, stories, and memories of our monastic works and ministries.
Thirty sisters gathered for the corn party!  After 45 minutes of communal service, we had forty of the five pound pans and another three of the three pound pans…just over 200 pounds of sweet corn all steamed, cut, wrapped, and waiting for our kitchen folk to bring out a little taste of summer during our cold South Dakota winters.  The sisters worked to clean-up the sticky kernels that seemed to spring all over the counters and tables during the corn cutting.  When all the counters were shinny and the last trays had been sent through the dishwasher, our evening of service concluded with a sweet treat of ice-cream bars as a "thank you" for our shared labor, our family ministry to each other.
The tradition of working together to care for the needs of monastery continues. We invite you to join us in our lived tradition of mutual service, prayer, and laughter too.
Blessings,
SHM Volunteer Program | Join us in ministry!
Come and explore our incredible setting as a Resident Volunteer!
Learn More
Vocations– Join us!
Find out what it takes to be ONE HEART in loving Jesus, your Sisters, and the world.
Learn More
Monastic Horarium
Our weekday schedule at the Monastery.
7:30 AM ~ Breakfast
* Ministry and Service
12:00 PM ~ Lunch
12:45 PM ~ Noon Praise
* Ministry and Service
5:15 PM ~ Vespers in Peace Chapel
5:45 PM ~ Supper Evening
* Recreation and Compline
Eucharistic Love
Pope Francis said, "The Eucharist affects the way we see others. In his life, Christ manifested his love by being with people, and by sharing their desires and problems. So, too, the Eucharist brings us together with others–young and old, poor and affluent, neighbors and visitors. The Eucharist calls us to see all of them as our brothers and sisters, and to see in them the face of Christ." ~ February 14, 2014 General Audience.
God Bless You for Visiting!
Yankton Benedictine Sisters blog